Optimized CCTV Storage Solutions

To see craters on Mars,
you need a telescope.

CCTV solutions powered by WD Purple Surveillance HDD


MicroSD™ cards built forsurveillance, not songs.


WD Purple microSD Cards for Edge Surveillance and Back-Up


Make Your Smart Video Smarter


Pro Performance for Advanced Analytics

CCTV Surveillance Storage Hard Disc Drives
Exclusive AllFrame™ technology helps reduce frame loss and improve overall video playback
WD Purple hard drives are designed specifically to handle heavy workloads from CCTV security cameras.
Your CCTV security system is only as good as the hard disk backing it. A CCTV camera is just the beginning of a surveillance system, the seeing eye. WD Purple hard drives are the heart and brain of surveillance, powering the entire dynamic to help keep you safe, without skipping a beat.
The whole purpose of installing CCTV cameras is to be able to clearly record what is happening and to go back and check the footage whenever needed. General desktop hard-drives are typically not tested for high write work-loads compared to surveillance HDDs. The storage device for a security camera system should be able to record, store and re-play videos non-stop from multiple feeds. In case of any technical glitch that can cause hang-ups, the hard drive should have features to help move on to capture the next frame, or risk losing crucial footage.
Built to last for 24/7 Surveillance Systems

Surveillance systems can be extremely demanding, requiring uninterrupted capture and streaming, endurance for wide weather fluctuations and adaptability for unforeseen errors. Western Digital, a global leader in digital storage solutions, offers an unmatched portfolio of storage devices for surveillance cameras; for DVRs, standard and AI enabled NVRs, server-based VMSs, and cloud server based CCTV systems.
Benefits offered by WD Purple range of HDDs

Improved ATA Streaming

Optimizes data reading and writing time

Reduces Critical Errors
Skips a bad frame to continue capture
Continuous Monitoring
Designed for systems that operate 24x7 with up to 64 CCTV cameras
Heavy Duty

Supports up to 360 TB/year workload rate

Warranty

3 years limited warranty~

Don't let bad pixels
compromise crucial moments
MicroSD™ Cards
You have probably used microSD™ cards to extend the memory of your smartphone or laptop. These cards can surely store digital files, but storing video captures from 24X7 on cameras is a different ballgame altogether. You would delete your stored video footage when you do not need it and format the card to clear up space for new footage. WD Purple SC QD101 microSD™ cards come with an endurance of 500 Program/Erase cycles: you can format your card about 500 times. Many of our retail grade microSD™ cards come without any endurance specifications and are not specifically designed for 24X7 on cameras. It's important to know in advance if your microSD™ card requires maintenance service, especially when it's a critical part of your security system and placed somewhere hard-to-reach. WD Purple microSD™ cards come with Card Health Monitor capability that checks on the card health and alerts you in advance when maintenance is required in compatible cameras. WD Purple SC QD101 microSD™ cards come with a 3-year limited warranty, whereas surveillance use is not typically covered in our warranty for retail grade microSD™ cards.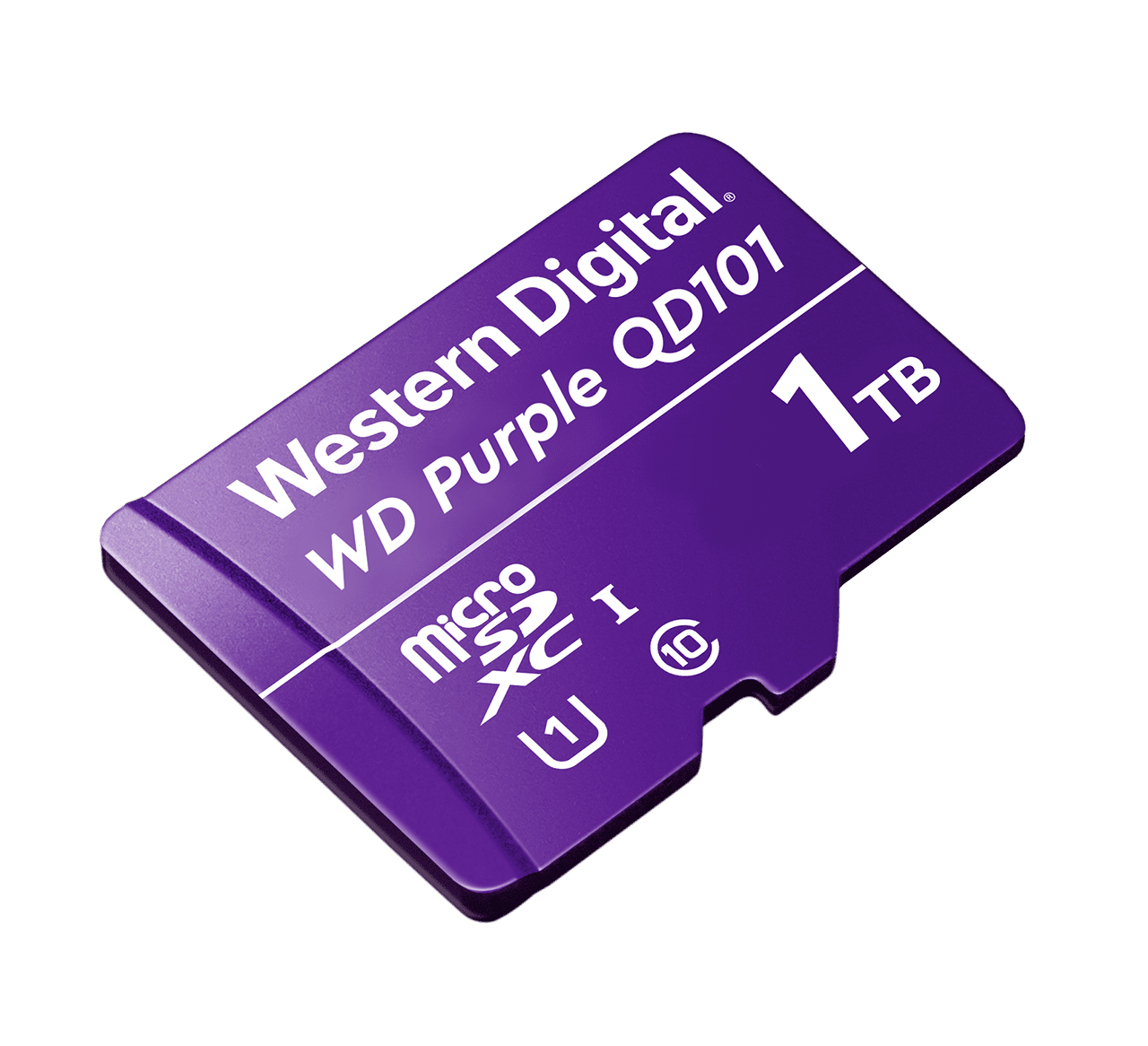 Designed for high endurance

500 Program/Erase cycles

Available in
32GB, 64GB, 128GB,
256GB, 512GB, 1TB
Optimized
Optimized for 24/7 video surveillance cameras & Edge devices
Card Health Monitor

Tracks storage health and enables pre-emptive maintenance in compatible cameras

Warranty

3-year limited warranty

High Endurance

Designed with high endurance for continuous WRITE operations (Recording)

Secure Surveillance on the Edge

WD Purple microSD™ cards deliver high endurance, reliability, and extended temperature range for smart video and different types of surveillance CCTV cameras like wireless, Wi-Fi, IP, DVR and NVR based systems. In the event of a power-cut or a similar event that disrupts the connection between your camera & DVR, WD Purple microSD™ cards allow for uninterrupted storage of security video by acting as a back-up. These removable flash drives can supply your edge storage needs as well as additional back-up requirements.
WD Purple SC QD101 microSD™ card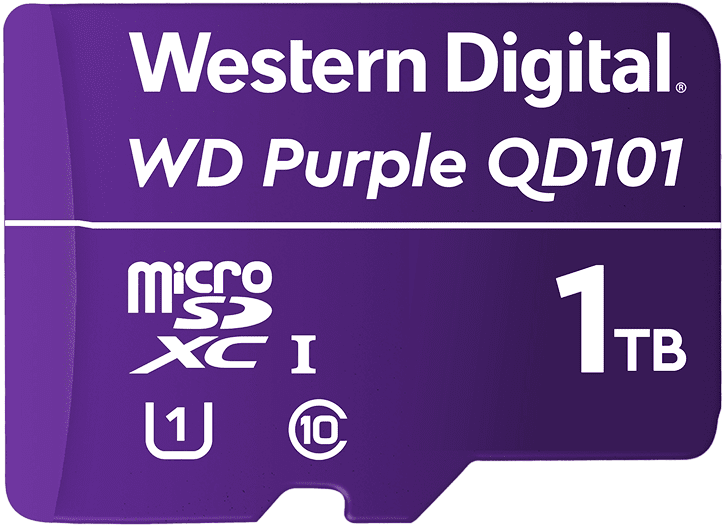 For failover/ back up
500 Program/Erase cycles – can be formatted and rewritten about 500 times
32 GB to 1TB capacity
WD Purple SC QD312 microSD™ card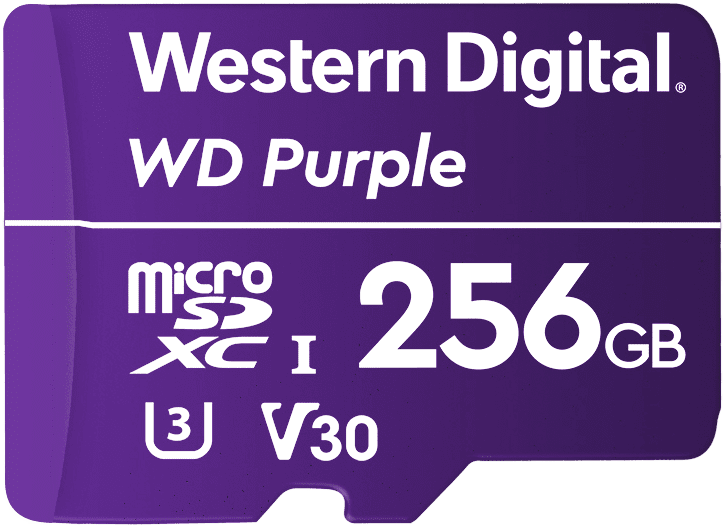 For advanced cameras
6x storage life @ 3,000 Program/Erase cycles
Up to 256 GB capacity
Disclosure:
As used for storage capacity, 1GB = 1 billion bytes and 1TB = 1 trillion bytes. Actual user capacity may be less depending on operating environment. ~ 5 years limited warranty is applicable on HDDs with 8TB and above capacities only, while HDDs under 8TB come with 3 years limited warranty.