Từ nay đến hết 31/12/2020
Mua ngay các sản phẩm WD & SanDisk để nhận những phần quà cực hấp dẫn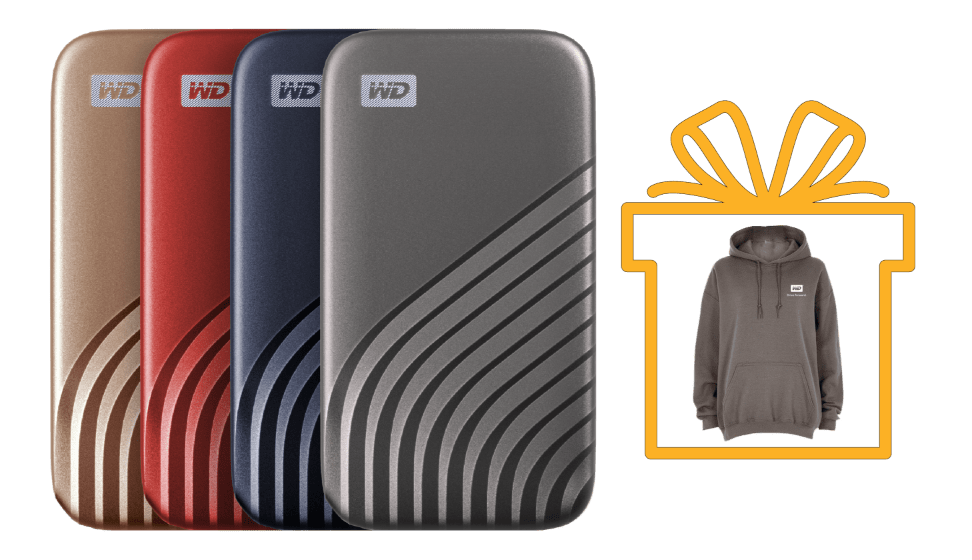 phiên bản 2020, nhận ngay áo hoodies cực ngầu

Mua ngay WD My Passport SSD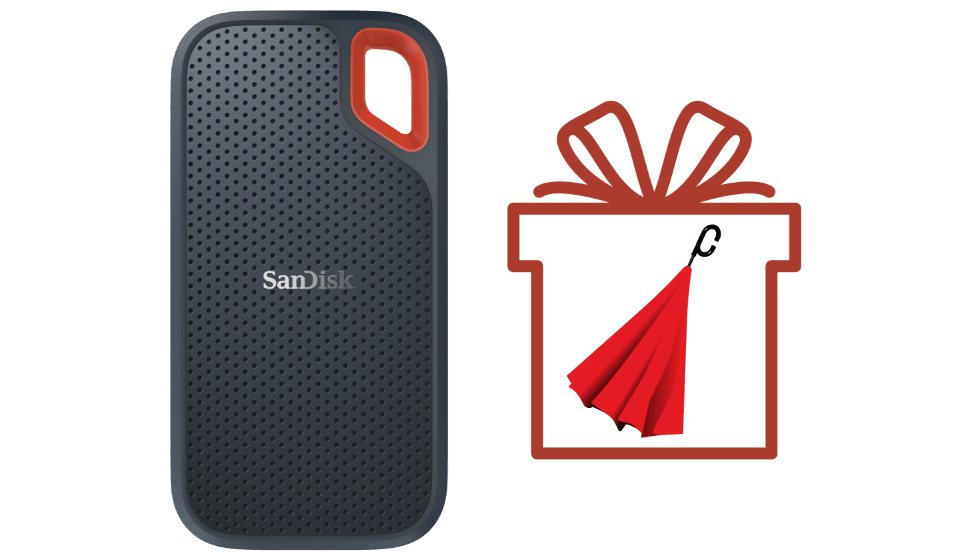 SanDisk Extreme portable SSD
phiên bản 2020, nhận ngay ô rút ngược tiện lợi

Mua ngay SanDisk Extreme portable SSD

*Số lượng có hạn. Chương trình kết thúc khi hết quà.
WD End user promotion for WD & SanDisk portable SSD
OFFICIAL RULES
IMPORTANT - READ CAREFULLY. VOID WHERE PROHIBITED. YOUR PARTICIPATION IS SUBJECT TO THE TERMS AND RULES HEREIN, INCLUDING THE INDIVIDUAL ARBITRATION AND CLASS ACTION WAIVER, AS APPLICABLE.
SPONSOR: WD End user promotion ("Promotion") is sponsored by Western Digital (S.E. Asia) Pte. Ltd., 9 Tampines Grande, #04-22, Singapore 528735 ("Sponsor" or "WD"). The Promotion Administrator for the Promotion is Eternal Asia Vietnam, 31/6 + 6A Tran Dinh Xu Str., Cau Kho Ward, Dist. 1, HCMC, Vietnam ("Promotion Administrator").
AGREEMENT TO OFFICIAL RULES: By submitting an Entry to enter the Promotion, you indicate your full and unconditional agreement to, and acceptance of, (a) these Official Rules and (b) Sponsor's decisions, which are final and binding. Winning a prize is contingent upon fulfilling all requirements set forth in these Official Rules.
PROMOTION PERIOD: The Promotion starts at 09:00:00 AM (Vietnam time) on 15th December 2020 and ends at 11:59:59 PM (Vietnam time) on 31st December 2020 ("Promotion Period"). Any Entry received after the expiry of the Promotion Period will be deemed invalid. Sponsor has no responsibility to accept late, lost, delayed, or misdirected Entries. Sponsor's computer is the official time-keeping device for this Promotion.
ELIGIBILITY: The Promotion is open to legal residents of Vietnam who are eighteen (18) years of age or older and have reached the age of majority within the jurisdiction in which they reside at the time of Entry. Promotion entrants must be the "Authorized Account Holder" of the e-mail address used for the Entry. Void outside of Vietnam and where otherwise prohibited or restricted, in any manner. Employees of Sponsor, or those of its subsidiaries, advertising and production agencies, and other companies directly involved in the implementation and/or operation of the Promotion, along with their immediate families and household members, are not eligible to participate in the Promotion. All national, regional federal, state, and local laws and regulations apply.
HOW TO ENTER: To enter the Promotion, during the Promotion Period, a participant must: purchase WD My Passport SSD (2020 new version) OR SanDisk Extreme Portable SSD (2020 version) ("Qualifying Product. Any entrant who attempts to participate with multiple email addresses, under multiple identities, to enter multiple times in violation of the terms of this Promotion or to interfere with the proper operation of this Promotion, will be disqualified.
Sponsor has made no warranty or guarantee in whole or in part, express or implied, in fact or in law, in relation to the use of any Prize including, but not limited to, its quality, merchantability, fitness for a particular purpose or suitability for use, except to the extent Sponsor provides support for those products manufactured by Sponsor, and then only in accordance with the relevant limited warranty. All prizes offered in this Promotion are subject to the terms and conditions, warranty, and RMA return policies of the relevant manufacturer. Sponsor accepts no responsibility for providing support for prizes other than those products manufactured by Sponsor and only in accordance with the relevant limited warranty.
RELEASE OF LIABILITY: By participating in the Promotion, you (and all of your travel companions, if any) release Promotion Administrator and Sponsor, and their respective subsidiaries, affiliates, partners, employees, directors, officers, agents, advertising agencies, and others associated with the implementation and/or operation of such Promotion (collectively, "Promoters"), from and against any and all injury, loss, damage, or cost (including taxes) caused, arising out of, related to, or claimed to be caused by your participation in such Promotion and/or the acceptance, awarding, receipt, use and/or misuse of any Prize, mode of transportation, lodging or meal establishment related to the Dream Trip Destination, or from any typographical, human or other error in the printing, offering, selection, operation or announcement related to this Promotion. Notwithstanding the foregoing, in the event that the preceding release is determined by a court of competent jurisdiction to be invalid or void for any reason, each participant agrees that, by entering the Promotion (i) ANY CLAIMS, JUDGMENTS, AND AWARDS SHALL BE LIMITED TO ACTUAL OUT-OF-POCKET COSTS INCURRED, INCLUDING COSTS ASSOCIATED WITH ENTERING SUCH PROMOTION, BUT IN NO EVENT ATTORNEY'S FEES; AND (III) UNDER NO CIRCUMSTANCES WILL ANY PARTICIPANT BE PERMITTED TO OBTAIN ANY AWARD FOR, AND PARTICIPANT HEREBY WAIVES ALL RIGHTS TO CLAIM, PUNITIVE, INCIDENTAL, OR CONSEQUENTIAL DAMAGES AND ANY AND ALL RIGHTS TO HAVE DAMAGES MULTIPLIED OR OTHERWISE INCREASED AND ANY OTHER DAMAGES, OTHER THAN DAMAGES FOR ACTUAL OUT-OF-POCKET EXPENSES. Without limiting the generality of the foregoing, participants agree that Sponsor and Promotion Administrator: (A) have neither made nor will be in any manner responsible or liable for any warranty, representation or guarantee, express or implied, in fact or in law, in connection with the Promotion and/or with respect to Prizes, including, without limitation, to any Prize's quality or fitness for a particular purpose; (B) maintain no control over the personnel, equipment or operation of any air, water or surface carrier, airline, ship line, train, subway, taxi, bus or limousine company, transportation company, hotel, restaurant, manufacturer, travel agency or other person or entity furnishing services, products or accommodations ("Suppliers") as a part of the Prizes provided in connection with the Promotion; and (C) will not be responsible or liable for any injury, damage, loss, expense, accident, delay, inconvenience or other irregularity that may be caused or contributed to: (1) by the wrongful, negligent or unauthorized act or omission on the part of the Suppliers or any of their agents, servants, employees or independent contractors, (2) by any defect in or failure of any vehicle, equipment, instrumentality, service or product that is owned, operated, furnished or otherwise used by any of those Suppliers, (3) by the wrongful, negligent or unauthorized act or omission on the part of any other person or entity not an employee of any of the Promoters, and (4) by any cause, condition or event whatsoever beyond the control of the Promoters. Each participant further agrees to indemnify and hold harmless Promoters from and against any and all liability resulting or arising from the Promotion and to release all rights to bring any claim, action or proceeding against Promoters and hereby acknowledge that Promoters have neither made nor are in any manner responsible or liable for any warranty, representation or guarantee, express or implied, in fact or in law, relative to an Prize, including express warranties provided exclusively by a Supplier. Please contact the applicable Supplier directly for any questions, exchanges, warranty or expiry matters for the service(s) they provide.
ADDITIONAL RULES: Sponsor's decisions will be final in all matters relating to the Promotion and winner eligibility. Your Entry constitutes your consent to participate in this Promotion and your consent for Sponsor to obtain and deliver your name, email address and contact number to Eternal Asia Vietnam. for the purpose of administering this Promotion and for other uses by Sponsor as permitted by these Official Rules and by applicable law. Entries are the property of the Sponsor and will not be acknowledged or returned. By submitting an Entry, entrant agrees to abide by the terms of these Official Rules. Sponsor is not responsible for computer system, phone line, technical, hardware, software or program failures of any kind, lost or unavailable network connections, incomplete, garbled or delayed computer transmission or network connections that are human or technical in nature.
Sponsor is not responsible for: (i) lost, late, misdirected, damaged, garbled, or illegible Entries/registrations; (ii) errors, omissions, interruptions, deletions, defects, delays in operation or transmission, theft or destruction, or unauthorized access to or alterations of Entry/registration materials, or for technical, network, telephone equipment, electronic, computer, hardware, or software malfunctions of any kind, or inaccurate transmission of or failure to receive Entry information by Sponsor on account of technical problems or traffic congestion on the Internet or at any web site or any combination thereof; or (iii) any injury or damage to entrant's or any other person's computer related to or resulting from participating in the Promotion. Sponsor reserves the right to: (a) permanently disqualify from the Promotion any person it believes has intentionally violated these Official Rules; and (b) suspend, modify or terminate the Promotion if Sponsor believes, in its sole discretion that malfunction, error, disruption or damage is impairing or will impair the administration, security, fairness, or integrity of the Promotion. Sponsor reserves the right to disqualify any unauthorized Entries, including, without limitation, multiple Entries from the same person.
LEGAL WARNING: ANY ATTEMPT BY AN INDIVIDUAL, WHETHER OR NOT AN ENTRANT, TO DELIBERATELY DAMAGE, DESTROY, TAMPER OR VANDALIZE THIS WEB SITE OR INTERFERE WITH THE OPERATION OF THE PROMOTION, IS A VIOLATION OF CRIMINAL AND CIVIL LAWS AND SPONSOR RESERVES THE RIGHT TO SEEK DAMAGES AND DILIGENTLY PURSUE ALL REMEDIES AGAINST ANY SUCH INDIVIDUAL TO THE FULLEST EXTENT PERMITTED BY LAW.
PRIVACY AND PUBLICITY: Any information you submit as part of the Promotion will be used for purposes of the Promotion. Information you submit as part of an Entry will used by Sponsor for purposes of administering the Promotion and for Sponsor to communicate with you about Sponsor's products and services and is subject to Sponsor's privacy policy. WD's privacy policy is available at http://www.wdc.com/en/company/corporateinfo/privacy.aspx . Except where prohibited, participation in the Promotion constitutes an entrant's consent to Sponsor's use of his/her name, likeness, voice, opinions, picture, or image for commercial purposes in any media without further payment or consideration.
BINDING INDIVIDUAL ARBITRATION AND CLASS ACTION WAIVER AGREEMENT

Disputes. Unless otherwise prohibited by law, any Dispute between you and Western Digital Technologies, Inc. and its affiliates (collectively, "WDT") will be settled by arbitration. Subject to the exclusions provided in this Section 1, "Dispute" shall mean any dispute, claim, or action between you and WDT arising under or relating to all WDT sweepstakes, promotions, products and services, including without limitation hardware and software products, these Official Rules, or other transaction involving you and WDT, whether in contract, warranty, misrepresentation, fraud, tort, intentional tort, statute, regulation, ordinance, or any other legal or equitable basis, and shall be interpreted to be given the broadest meaning allowable under law. YOU AND WDT AGREE THAT "DISPUTE" AS DEFINED IN THIS OFFICIAL RULES SHALL NOT INCLUDE ANY CLAIM OR CAUSE OF ACTION CONCERNING THE ENFORCEMENT OR VALIDITY OF YOUR, WDT'S, OR EITHER OF OUR LICENSORS' INTELLECTUAL PROPERTY RIGHTS, INCLUDING CLAIMS OF (A) TRADE SECRET MISAPPROPRIATION, (B) PATENT INFRINGEMENT, (C) COPYRIGHT INFRINGEMENT AND MISUSE, AND (D) TRADEMARK INFRINGEMENT AND DILUTION.
Binding Arbitration. In the event of a Dispute arising out of the Promotion, the same shall be referred to arbitration with a single arbitrator appointed by the Sponsor. The arbitration shall be administered in Singapore by the Singapore International Arbitration Center in accordance with the Singapore International Arbitration Center Rules ("Rules"). The arbitration shall be conducted in the English language. The decision of the arbitration shall be binding upon the parties hereto.

WAIVER OF CLASS ACTIONS AND CLASS ARBITRATIONS. UNLESS OTHERWISE PROHIBITED BY LAW, YOU AND WDT AGREE THAT EACH PARTY MAY BRING DISPUTES AGAINST THE OTHER PARTY ONLY IN AN INDIVIDUAL CAPACITY, AND NOT AS A PLAINTIFF OR CLASS MEMBER IN ANY PURPORTED CLASS OR REPRESENTATIVE PROCEEDING, INCLUDING WITHOUT LIMITATION FEDERAL OR STATE CLASS ACTIONS, CLASS ARBITRATIONS, OR PRIVATE ATTORNEY GENERAL ACTIONS. ACCORDINGLY, UNDER THE ARBITRATION PROCEDURES OUTLINED IN THIS ARBITRATION AGREEMENT, AN ARBITRATOR SHALL NOT COMBINE OR CONSOLIDATE MORE THAN ONE PARTY'S CLAIMS WITHOUT THE WRITTEN CONSENT OF ALL AFFECTED PARTIES TO AN ARBITRATION PROCEEDING.
SEVERABILITY: If any provision of these Official Rules is found to be unenforceable, that provision shall be severed with the remainder of the Official Rules remaining in full force and effect.
GOVERNING LAW: All issues and questions concerning the construction, validity, interpretation and enforceability of these Official Rules, your rights and obligations, or the rights and obligations of Sponsor in connection with the Promotion, shall be governed by, and construed in accordance with, the laws of Singapore, without giving effect to any choice of law or conflict of law rules. Except where prohibited and in the event that the arbitration or class waiver provisions above are not permitted by law for Disputes, entrants agree that any and all disputes, claims, and causes of action arising out of the Promotion or any prize awarded shall be resolved exclusively by the appropriate court located in Singapore.
©2020 Western Digital Technologies, Inc., Irvine, CA. All rights reserved.

NOTE: Not all products are available in all regions of the world.
© 2021 Western Digital Corporation or its affiliates. All rights reserved.
Your form has been submitted successfully!
Oops! Something went wrong. Please try again later.