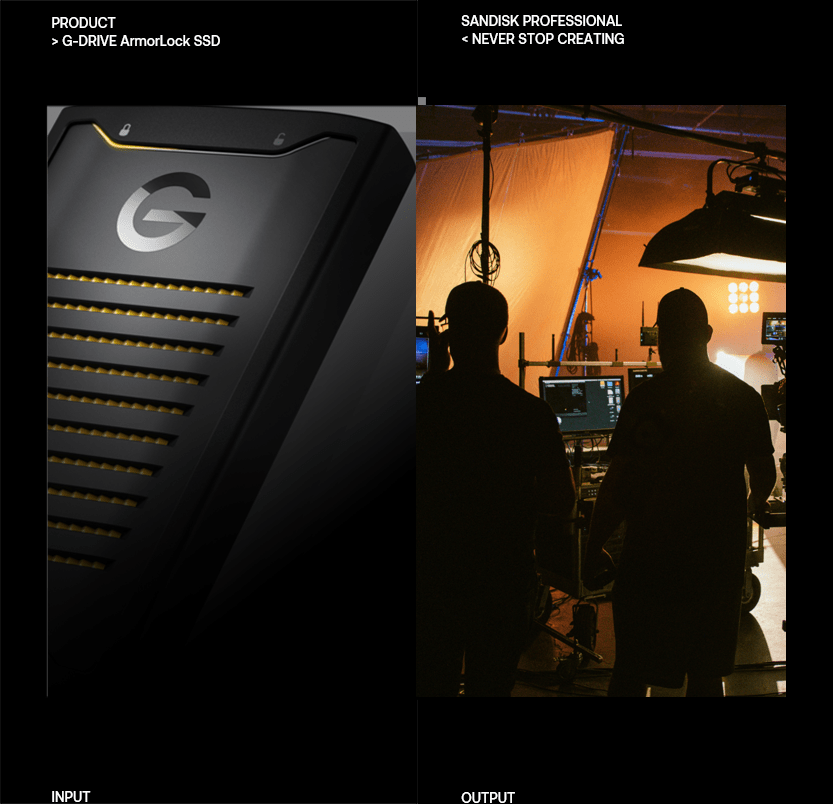 HIGH-LEVEL SECURITY
PRO-GRADE PERFORMANCE
Introducing our revolutionary security platform
Introducing our revolutionary security platform
The ARMORLOCK encrypted NVMe™ SSD and app deliver next-generation security and new-generation simplicity combined with powerful, pro-grade performance to help protect your most critical content without slowing you down. Encryption is only the beginning.

ONE TOUCH ACCESS
Passwords are a thing of the past

USER MANAGEMENT
The new authority on authorization

Encryption is only the beginning
Built with high-grade 256-bit AES-XTS hardware encryption and NIST P-256 elliptic curve-based key management for powerful data protection without compromising on speed. The G-DRIVE ArmorLock SSD comes completely locked out of the box, shutting out access from the start. When a drive is unlocked you have fast access to stored content. Ejecting the drive automatically locks it - rendering all content inaccessible.
Adrenaline for your content
Transfer time is down time. With the G-DRIVE ArmorLock SSD heat dispersing, cool aluminum core you get sustained, pro-grade transfer speeds up to 1000MB/s read and 1000MB/s write.1
Production trucks, DIT carts, Pelican cases, and backpacks. The ultra-rugged G-DRIVE ArmorLock SSD gives you pro-grade durability you can rely on. Hand it off and trust it's safe with our durable, easy-to-hold enclosure, up to 3-meter drop protection2, 1,000-pound crush resistance, and IP67 dust and water resistance.
EXPERIENCE NEXT-GEN SECURITY IN A HIGH-PERFORMANCE SSD
Disclosures:
1. Based on read and write speeds. 1 MB/s = 1 million bytes per second. Based on internal testing; performance may vary depending upon host device, usage conditions, drive capacity, and other factors.
2. On carpeted concrete floor.