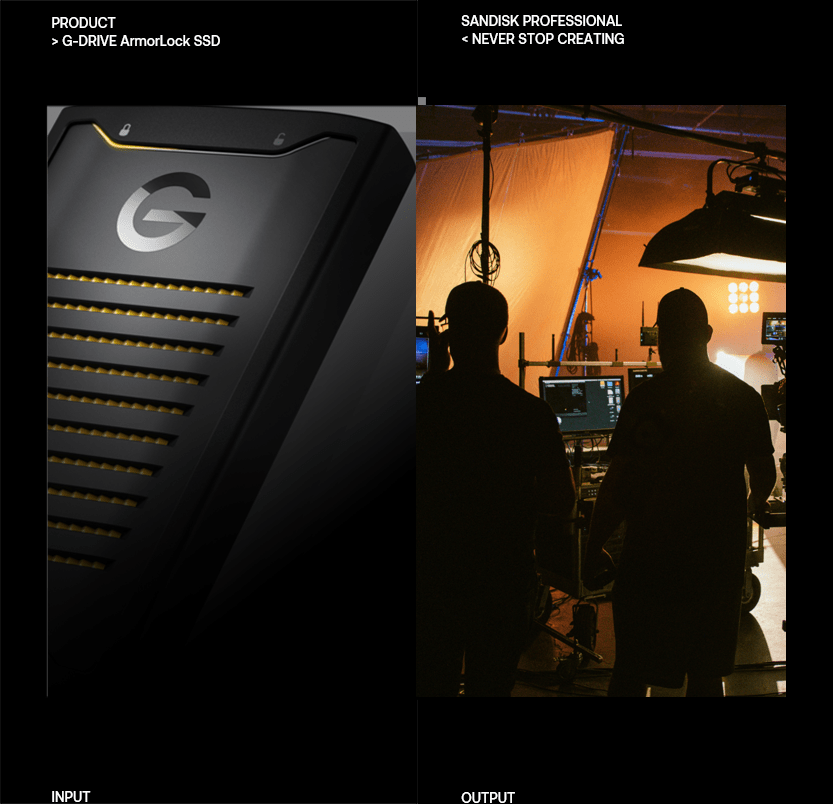 HIGH-LEVEL SECURITY
PRO-GRADE PERFORMANCE
Introducing our revolutionary security platform
Introducing our revolutionary security platform
The ARMORLOCK encrypted NVMe™ SSD and app deliver next-generation security and new-generation simplicity combined with powerful, pro-grade performance to help protect your most critical content without slowing you down. Encryption is only the beginning.

ONE TOUCH ACCESS
Passwords are a thing of the past
Passwords are a thing of the past
Remembering passwords, entering codes and downloading software slows down access to critical content. With the ArmorLock technology, your phone is your key. We designed ArmorLock to integrate into the way you use your phone today, leveraging your phone's biometric authentication to simply and quickly access your content with the tap of a button.

USER MANAGEMENT
The new authority on authorization
The new authority on authorization
Collaboration is critical to your workflow, but multiple users and drives create security risks. The ArmorLock app lets you easily control who gets access to your drive for seamless and secure teamwork. Sending the G-DRIVE ArmorLock SSD to a user at a different location? Before you ship, authorize their access to the drive using your favorite email or messaging service.

LAST KNOWN LOCATION
Worried you left your G-DRIVE ArmorLock SSD behind? The app will show you where you last used it on a map.
SECURE ERASE
When your content is no longer needed, use the secure erase feature to confidently erase the drive with the tap of a button.
SELF FORMATTING
With the ArmorLock app, you can quickly format your drive to one of the compatible file systems.
Encryption is only the beginning
Built with high-grade 256-bit AES-XTS hardware encryption and NIST P-256 elliptic curve-based key management for powerful data protection without compromising on speed. The G-DRIVE ArmorLock SSD comes completely locked out of the box, shutting out access from the start. When a drive is unlocked you have fast access to stored content. Ejecting the drive automatically locks it - rendering all content inaccessible.
Adrenaline for your content
Transfer time is down time. With the G-DRIVE ArmorLock SSD heat dispersing, cool aluminum core you get sustained, pro-grade transfer speeds up to 1000MB/s read and 1000MB/s write.1
Production trucks, DIT carts, Pelican cases, and backpacks. The ultra-rugged G-DRIVE ArmorLock SSD gives you pro-grade durability you can rely on. Hand it off and trust it's safe with our durable, easy-to-hold enclosure, up to 3-meter drop protection2, 1,000-pound crush resistance, and IP67 dust and water resistance.
EXPERIENCE NEXT-GEN SECURITY IN A HIGH-PERFORMANCE SSD
Disclosures:
1. Based on read and write speeds. 1 MB/s = 1 million bytes per second. Based on internal testing; performance may vary depending upon host device, usage conditions, drive capacity, and other factors.
2. On carpeted concrete floor.